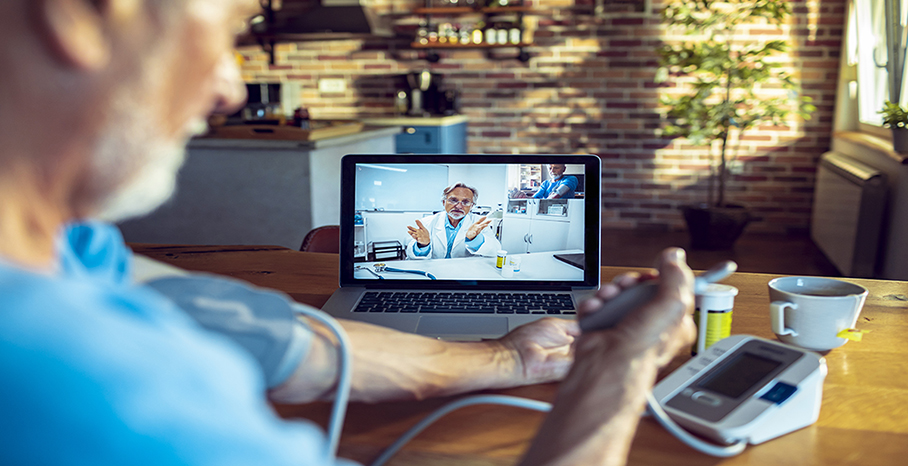 The COVID-19 pandemic has undoubtedly changed the world and transformed our way of life. From the speedy development of vaccines to a more digitalised approach to working, humanity has learned just how agile it can be in a crisis.
As the saying goes, out of adversity comes opportunity, and nowhere has that proved to be more evident than in the medical technology sector in China which has grown, in part, due to high demand from China for mid to high-end equipment. This growth presents a significant opportunity for Northern Ireland's Life and Health Sciences industry to export its cutting-edge products to meet this demand.
Devices that simplify the prevention, detection and treatment of illness and disease are not new, yet the pandemic has increased demand for these products. From wearables and implants that can detect and treat health problems to artificial intelligence-enabled imaging and track-and-trace technology, the Med-Tech industry in China is predicted to experience explosive growth over the next five years. This increase in growth offers ample opportunities for Northern Ireland's Life and Health Sciences industry to export to China.
China's desire to build a world-leading healthcare infrastructure, reflective of the country's 'Healthy China 2030' vision, has led to significant investment in the medical devices sector, which currently accounts for nearly 20% of the global market. According to Deloitte, the China market was on track to be worth RMB800 billion (US$124.2 million) by the end of 2020. This upward trend was evident even before the pandemic. Since 2015, China's medical devices sector's average annual growth rate has remained above 20%, significantly outpacing its GDP.
A post-COVID upgrade of the public health infrastructure is high on the agenda of the Chinese local and central governments. Some provinces have injected up to RMB 150 million (USD 23 million) into health projects. Echoing the central government's push to increase China's biosecurity capacity, provinces have announced their own policies to establish a minimum requirement for Polymerase Chain Reaction (PCR) – a reliable method for detecting viruses – laboratories and ICU equipment by both region and hospital.
"Invest NI provided invaluable support as we further expand into China. They acted as an intermediate in finding potential partners, scheduling virtual meetings, and identifying opportunities suitable to our increasing product range for the medical simulation market"
Aisling Fitzpatrick, TruCorp
The pandemic has also brought healthcare into sharp focus for China's citizens. Demand for online medical consultations soared, along with the emergence of drugs retailing on some of China's leading e-commerce platforms.  Tech giants such as Tencent, Alibaba and JD.com leveraged their big data expertise to enter the healthcare sector, establishing new distribution models for medical devices and health services.
However, there is undoubtedly room for Northern Ireland's medical devices companies to take advantage of China's desire to overhaul its health systems. There are currently more than 26,000 medical device manufacturers registered in China, with the medical equipment sub-sector dominating the market, accounting for nearly 57% of the entire medical devices' market.
Due to a shortage of R&D and advanced manufacturing capabilities, most Chinese manufacturers are producing low value-added products, and therefore China still relies on imported mid to high-end medical devices. Deloitte recently revealed more than 80% of high-value medical devices used in China's top Tier 3A public hospitals [1] are produced by international companies such as Medtronic, Johnson & Johnson, Siemens, GE and Philips. This reliance on overseas products provides an excellent opportunity for Northern Ireland's R&D intensive, innovative and high-tech medical device manufacturers to enter the market.
Northern Ireland's Life and Health Sciences sector is uniquely placed to provide quality technology solutions for China's healthcare sector. It has built a strong reputation in recent years, offering cutting-edge research in medical device technology – underpinned by its robust collaborative approach between industry, academia, and clinicians. The industry also boasts a highly developed R&D ecosystem, and its innovation in this sector has seen the emergence of a growing list of companies exporting overseas.
How can Northern Ireland's medical devices companies bridge the gap and begin exporting to China?
Invest Northern Ireland's Asia Pacific team can provide insights into the Chinese marketplace through market research, market scoping, market entry planning, and identifying and targeting potential customers and distributors.
"With the help of Invest NI, we were able to carry out 25 meetings in one week on a recent visit to China. On top of this, their continued help with translation, cultural nuances, and even marketing and display material is invaluable, and as a result the outcome of any trip is successful and positive"
Dr Jason McKeown, Neurovalens
We provide a presence for Northern Ireland companies at international trade and networking events in the region and we can secure vital meetings and pitches for clients. For example, in May 2021, we represented several Northern Ireland companies at the China International Medical Equipment Fair (CMEF), a medical equipment exhibition that connected international brands with potential clients, including private companies, regulators and government agencies.
At this event we facilitated a webinar where two Northern Ireland companies (TruCorp and Randox Toxicology) pitched their products and services to over 200 leading medical devices companies, investors, and distribution partners in China.
Invest NI's in-market team in China is also engaging with Life and Health Sciences sector associations, participating in key conferences, and collaborating with Chinese state-owned companies.
We also support leading private companies to further promote Northern Ireland's sector offering in China.
Upcoming events within the life and health sciences industry in China include:
A diagnostic focused webinar with CACLP (China Association of Clinical Laboratory Practice Expo) in September 2021;
Clinical Trial, an industry-focused event for global clinical development leaders in November 2021 and
A virtual sector visit to China in January 2022
To find out more about these events, China's Life and Health Sciences sector and the support we can provide to NI companies, visit investni.com, speak to your Client Executive or email beijing@investni.com.
[1] The Ministry of Health of the People's Republic of China – hospitals in China have been classified in a 3-tier system that recognizes a hospital's ability to provide medical care, medical education, and conduct medical research. A Public Hospital Tier 3 Class A is the top tier.