Join us online for this year's Virtual New Year Celebrations as we bring all the colour and tradition of the festival
Join Us
This year as we bring New Year to You Virtually we Invite you to be a part of the audience online. Simply Register at the link below to recieve your zoom link and if you wish to be part of the event just turn your webcam on and become a part of this years event. If you want to just watch either keep your camera off or click on the link to just watch the event as it is live streamed.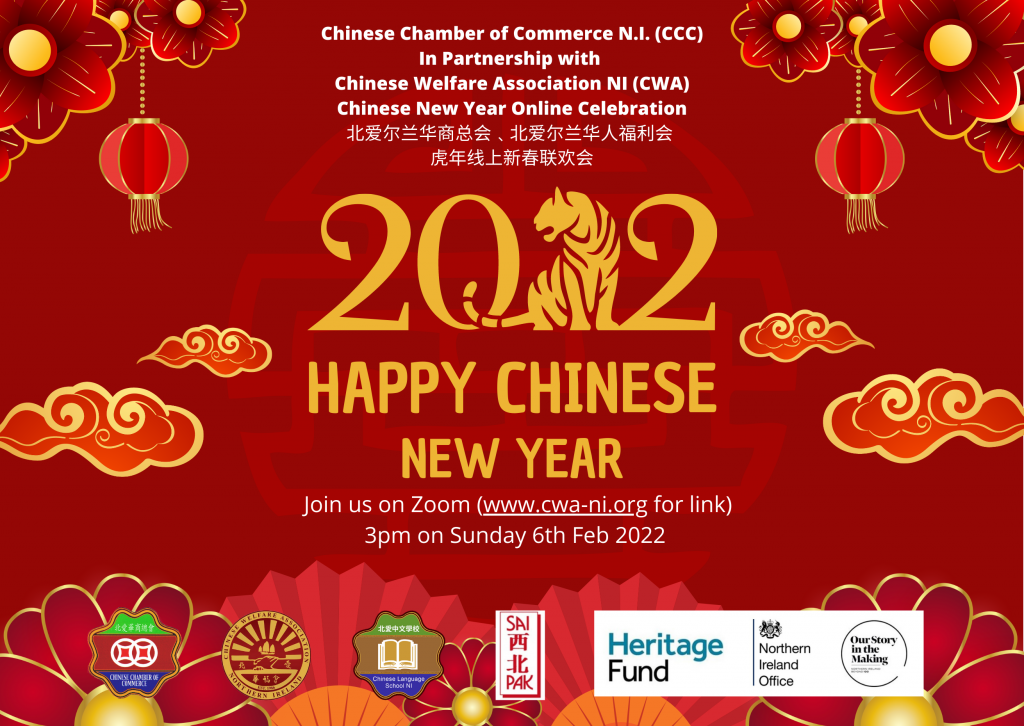 Register 点击预订电子票
All the talent and passion you expect from our events have been captured over the last few weeks and now presented online.
We bring you welcomes and best wishes from here in Northern Ireland and from China
Courage of the Tiger
We therefore warmly welcome you to our online CNY event on Sunday 6th Feb at 3pm. You can watch it on Youtube and join us on Zoom.
我们诚挚邀请您参加我们在 2 月 6 日星期日下午 3 点举行的在线 CNY 活动。 您可以在 Youtube 上观看直播或加入我们 Zoom 以获得更多互动体验。
We will have a mix of song, dance, music which should get you into the mood of the Year of the Tiger.
在这场活动中将会混合歌曲、舞蹈和音乐,它们将会让您沉浸在虎年的气氛中。
So, stick it in your reminders and see you soon! Please do support us and share widely amongst your family and friends.
Learn more about Chinese New Year and some of the traditions and heritage which make this the high point of the the Chinese cultural year.
Looking back
A quick look back at some of our previous new years.
Helping Make Northern Ireland
Our I in NI Shared History Project celebrates the Ch-I-nese in NI - our experience of and contribution to the country we call home.
Our Shared History Project has not only been looking at the Centenary of Northern Ireland but the contribution of the Chinese Community in NI, for over half that time. Events like Chinese New Year as as much a part of the cultural life of Northern Ireland as the Twelfth of July or St Patrick's Day and offers a festival for all the family that brings communities together. This year our theme will be the I in NI and our New Year will be a time of reflection on our place here.
Catch up with the Project